Happy Mother's Day from all of us at Chinglish!
We're celebrating you with complimentary mimosas and a family photo to enjoy!
WHEN: May 14, Brunch and Dinner
Mix, Shake, & Stir your own cocktails at Chinglish!
Our Mixology class is a real treat for those seeking an original activity to guarantee a day to remember.
WHEN: April 16, starting at 4:00 PM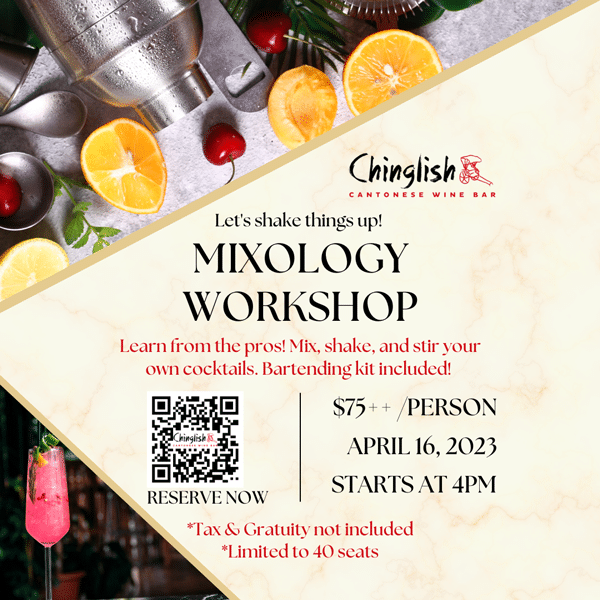 Chinglish Wine Bar is inviting couples to raise a glass to love with special cocktails and delectable dishes!
We're celebrating love with you! Enjoy complimentary champagne and a special performance!
WHEN: February 14.
Celebrate Chinese New Year at Chinglish Wine Bar!
We're celebrating the year of the rabbit with a 4 course Prix Fixe menu!
WHEN: January 22,  5:00 PM & 7:30 PM
Thanksgiving brunch at Chinglish Cantonese Wine Bar!
WHEN: Thursday, November 24th – 11 AM – 4 PM
WHERE: 8704 W. Charleston Blvd Ste 101, Las Vegas NV 89117
Sake Wine Tasting & Education Event
The sake-tasting process is similar to that of wine: see, swirl, sniff, sip, swish, and swallow or spit.
But the ultimate rule of sake tasting is too have fun!
50% off sake bottles all evening.
It happened on Thursday, October 27th 2022.
2nd Year Anniversary Party
Friday, October 14th
From 5:00pm-10:00pm
Free Bubbles – Live Music
Copper Cane Wine Experience 
We are holding our next Chinglish Wine Club event on Thursday, June 23rd at 7pm.  We are offering a 6-course meal, paired to wines from Copper Cane of Napa Valley.  Copper Cane representatives will show their wines, alongside 6 courses of Chinglish food pairings.
The cost is $150 ++ per person.  Click this link to make a reservation.  Space is limited, and seats are going fast.
Chinglish VIP Private Dining
Thursday, May 26th
On Thursday, May 26th Ken Heck and Chef Po Lam hosted the first exclusive limited seating Chef's Table Event. This private multi-course dinner featured off-the-menu recipes helmed by Chef Po Lam.
Our thoughtful pairings aid each entrée with a curated selection of either the finest champagne or exclusive wines that collaborate and harmonize beautifully.
Our Exclusive list of guests enjoyed an immersive fine dining experience.
Super Sunday Jewish Food Festival
The "Super Sunday Jewish Food Festival" was an event organized by Jewish Community Center of Southern Nevada.  The outdoor festival was a free event held at Tivoli Village in Summerlin, on a fantastic Sunday afternoon on November 7th, 2021 from 12:00-4:00 pm.  Super Sunday was open to the community and showcased and celebrated Jewish food, arts, culture, and community. Jews and non-Jews alike from across Nevada enjoyed a fun-filled day of great food, musical entertainment, and activities for all ages.
Chinese New Year 
Also known as the "Spring Festival," Chinese New Year marks the beginning of a new lunar year on the Chinese lunar calendar. Chinese New Year is a big celebration in Chinese culture. You may be familiar with the Chinese Zodiac, which is based on the lunar calendar and consists of 12 animals and their reputed attributes. We celebrated traditionally with a lion dance and Chinese New Year Banquet. Our six-course prix fixe menu was priced at a lucky number of $138 per guest and included dumplings, Tamago egg, Peking duck, seabass, chow fun, chocolate cake, and beverage pairings.
New Years Eve
New Year's Eve is always a big celebration, from the NYE Ball Drop countdown to your NYE kiss to fireworks marking the end of an era. Kissing 2020 goodbye was bittersweet and although many unfortunate events have happened this year, we also experienced a lot of amazing moments, like opening Chinglish Wine Bar! We held our very first New Year's Eve Celebration and it sold out! Those who joined us that night experienced two seatings, 7 PM and 10 PM, a six-course prix fixe menu, beverage pairings, and a champagne toast. The menu included Poh Poh's Chicken Dumplings, Bok Choy, Peking Duck, Mongolian Beef, Steamed Scallops, and Decadent Chocolate Cake.
Christmas
Holidays are a time to be around those you love, your family, friends, neighbors, etc. Although this year was unusual with the COVID-19 pandemic among us, we can all agree that it made us really cherish the time we spend with those we love. Christmas is much more than presents and gifts; it is about selflessness, family, friends, love, and the birth of Jesus Christ. We were very blessed to have been able to hold our doors open on Christmas Eve and on Christmas Day so everyone had a place to go- and to eat- over the holiday season. 
Thanksgiving
In honor of Thanksgiving, Chinglish Wine Bar wanted to travel outside of the norms and incorporate the Cantonese culture in holiday festivities. We celebrated Thanksgiving with a Hong Kong-style Thanksgiving Feast. It included a prix fixe menu with special turkey infused menu items that lasted all throughout Thanksgiving weekend so everyone could indulge in our feast: turkey dumplings, sliced turkey in pumpkin curry, salt and pepper pumpkin, sweet & cranberry turkey, Hong Kong noodles with turkey, and assorted holiday desserts.
Grand Opening To Benefit Three Square
There are a lot of great benefits to Grand Openings, but there are a lot more benefits to lending a helping hand to your community. Instead of a traditional Grand Opening event, we decided to go in a different direction. With our managing partners, Ken and Kitty Heck, being long-time active community members, we decided to combine our grand opening with a charity event. On Thursday, December 10, 2020, Chinglish Wine Bar held its grand opening charity event where all proceeds from Chinglish Wine Bar placed on that day were donated to charity. With everyone's amazing effort, help, and support, we were able to contribute 36,828 meals to the Las Vegas Three Square Food Bank.